This post has not been edited by the GamesBeat staff. Opinions by GamesBeat community writers do not necessarily reflect those of the staff.
---
Video game jams are pretty rad. For the uninitiated, picture a bunch of creative types quickly whipping up a variety of art and media that follows a particular theme, and you'll start to get the picture.
The Comics vs. Game Creative Jam at the Toronto Comic Arts Festival 2012 takes place this weekend. A week later is the online Sworcery A/V Jam celebrating the pixelated adventure game Superbrothers: Sword & Sworcery EP. Though these two events are quite different in execution, they're both spot-on in facilitating video game culture in an amazing way. Here's how:
The setup: Five teams, consisting of one indie game designer and one comic book artist each, recently churned out an equal number of short games. TCAF attendees can play the finished digital collaborations and enjoy a small art gallery of works based on the CvG theme from some of the Internet's finest artists.
I like how this jam is a destination event (even though I lack the funds or open schedule to fly up to Canada). The setup is much more inviting than watching the creators at work, presumably hunched over keyboards and paper. The public just gets to enjoy the fruits of their labor.
Folks who are in Toronto this weekend might also run into talents like Adventure Time inventor Pen Ward or Scott Pilgrim creator Bryan Lee O'Malley, who made the trip up north, according to Twitter.
The guys behind Sword & Sworcery EP are encouraging inventive enthusiasts to participate in their audio/visual jam between May 11-13. Specifically, they want people to create their own visual interpretations of the game or even take provided parts of a certain song from the soundtrack and produce a remix. The best part is that anyone can participate since the "event" takes place on the Internet.
I think this is a fantastic way to celebrate the Sworcery game world and endear fans to the company. This jam also creates a nice forum for amateurs and pros alike to show off their talents, thanks in part to the affordable creative software of today (Photoshop, Garage Band, and the like). Even though everyone takes part in relative isolation, the idea that each artist is only supposed to be working during the same time period creates an interesting sense of online community.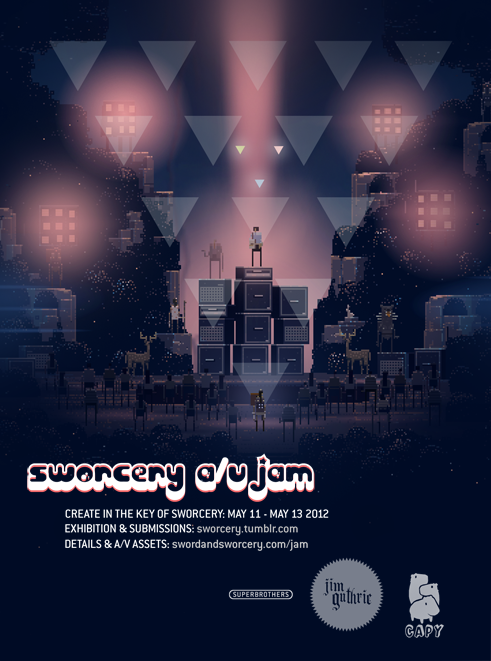 As the independent video game development and art communities continue to grow and collaborate, I imagine we'll see more of these types of functions. They serve as a fine expression of the industry's heart and culture. If someone were to ask me where I think gaming is headed, I wouldn't say the obvious: bigger and better graphics. I'd gladly point in the direction of jams like these.