This post has not been edited by the GamesBeat staff. Opinions by GamesBeat community writers do not necessarily reflect those of the staff.
---
I was so close to buying Diablo III. It was in my cart. I only had to click a few more buttons to have Blizzard's latest masterpiece in my hands.
I held my nerve, though, and appealed to someone, anyone to send me a code for the downloadable trial instead. Thankfully, a generous Twitter user came to my aid, and after about six hours, I was ready to play.
At first glance, Diablo III isn't much to look at. The character models for each of the classes look a little simplistic, especially when compared to those seen in Max Payne 3 — which saw release in the same week. I chose the balding, bearded monk, assigned him my standard name (Dutch, in case you were wondering), and started clicking.
With its subtle narrative hints, charming art style, and visual splendor, I soon found myself hooked on Diablo III. For about three hours, I clicked barrels, jugs, and skeleton warriors. I clicked loot and gold while rearranging my inventory multiple times. I clicked and clicked and clicked some more.
Alas, sleep was required as work — bracketed with a lengthy commute — awaited me the following day.
I tried to return to New Tristram the following night, but 12 hours away from the house had me exhausted. "Tomorrow" soon became yesterday with no additional play to be had. I finally found the time to get back online, and I proceeded to click some more. It felt more labored this time and far less compelling. It was nothing like those first three hours.
And then I was struck with an irrepressible sense of déjà vu.
Torchlight!
Nearly three years ago, I bought Runic Games' highly regarded Diablo clone during a Steam seasonal sale and proceeded to invest a fevered three hours in the click-and-loot heavy RPG. After that, I never played it again, save for a failed five-minute attempt to pick it back up last year.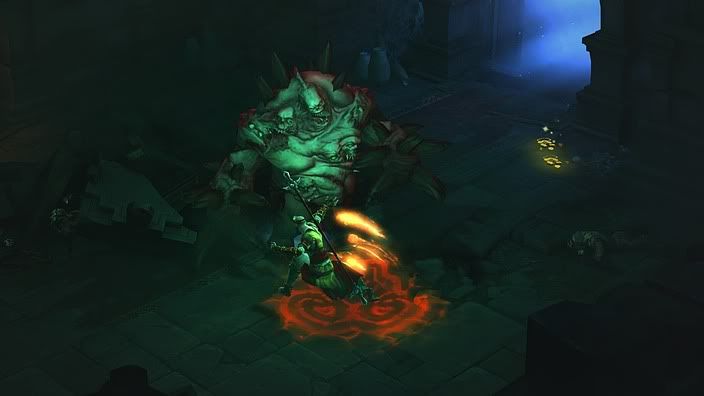 Let's go back to Diablo III. After more clicking and kicking — with Templar in tow — I defeated the Skeleton King and reached the end of the trial. With some satisfaction, I chose "Cancel" instead of "Upgrade Now" when Blizzard came knocking at the end. It turns out, this kind of action RPG just isn't my thing. Thanks to a near stranger and three hours of play, I was able to ascertain that without dropping 60 dollars on the retail version.
How are you enjoying Diablo III? Has anyone upgraded from the Starter Edition?