This post has not been edited by the GamesBeat staff. Opinions by GamesBeat community writers do not necessarily reflect those of the staff.
---
The Nintendo 3DS is taking one step closer toward the world of modern gaming consoles. Developer Wayforward Technologies is releasing an update to its most recent 2D platformer for the handheld, Mighty Switch Force. Technically, this is downloadable content, a first for the 3DS, even if the method is a little unorthodox.
According to Wayforward's blog, the company is releasing a new version of MSF that includes five bonus levels, "enhanced stereoscopic effect" for all the original stages, and a new retry option in the pause menu (for speed-run purposes).
Fans who already own a copy of the title will get the latest version free of charge. Wayforward also reassured me, via Twitter, that game saves will transfer over. I find it a little strange that users will apparently have to re-download the entire game instead of getting a small patch, but I assume it has to do with some technical issue. I'm also curious to see what this "enhanced stereoscopic effect" is all about since when I originally wrote about MSF, I praised it for its subtle use of 3D.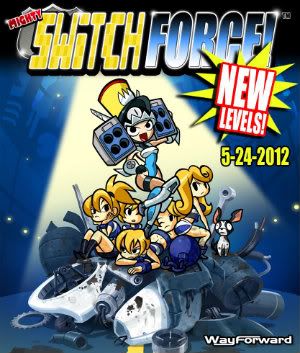 Nevertheless, it's fantastic that the developer is giving back to consumers with this free content and these minor improvements, especially considering how the original game was great…but a little too short. Whenever I would see the MSF icon on my 3DS homepage, I would think about how much fun I had chasing down the Hooligan Sisters as cyber-cop Patricia Wagon, but I didn't plan on playing anymore since I already beat every level under the par time. Now I have an excuse to suit back up.
This "freeLC" also has the added effect of making me view Wayforward in an even more favorable light. Suddenly, the $11.99 sticker price on another one of its downloadable DS games, Shantae: Risky's Revenge, doesn't seem so bad. I'm also looking into the other "Mighty" titles. And lastly, I'm now that much more committed to buying the company's upcoming release, Adventure Time: Hey Ice King! Why'd You Steal Our Garbage?! when it comes out later this year. (As if I ever doubted picking that one up….)
So kudos, Wayforward, for not just spreading good game karma and making your fans happy but for also getting the ball rolling with downloadable content for the Nintendo 3DS.