This post has not been edited by the GamesBeat staff. Opinions by GamesBeat community writers do not necessarily reflect those of the staff.
---
If you've never been to the Electronic Entertainment Expo — or even if you have — there's a lot going on that you don't see. The entire gaming industry converges in this one place at this one time, and when the L.A. Convention Center kicks us out every night, we tend to reconvene elsewhere. Generally somewhere with alcohol and food and alcohol.
And then you have the parties.
Plenty of companies, from both the journalism and developer/publisher sides of the fence, throw big, invite-only soirees. For reasons I can't even begin to guess, this year, the vast majority of them fell on the first day of E3. I wasn't on every list, and I still got at least a dozen non-transferable invites for Tuesday night.
I picked three to attend. I based my choices on interest, curiosity, practicality, obligation, and above all, variety. Here's how it shook out.
---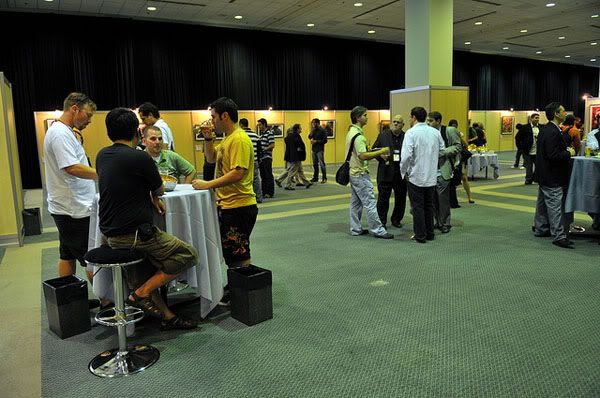 Into the Pixel
The one event I attend every year. It's close (located in the L.A. Convention Center's concourse), catered, and conveniently starts just as the show floor closes for the day. But even better, it celebrates a subject dear to my black heart: games as art.
Into the Pixel showcases a gallery of paintings, concept art, and the like, sponsored by The Academy of Interactive Arts & Sciences (AIAS) and selected by a rotating panel of judges. This year's collection featured work from Assassin's Creed 3, Halo 4, and Gravity Rush. You can seem them all at the official site, and all represent a stunning testament to the imagination and artistry that goes into creating a video game.
Also, the Pixel party is easily the most chill gathering you'll find at E3. After a long day's sensory overload, it's wonderful to go somewhere relatively quiet with a glass of wine, look at beautiful (and static) images, and decompress for a few. I've also had some great conversations at Pixel with people just as passionate about this stuff as I am. It's like a piece of the Game Developer's Conference sneaks into E3 every year, and I love it.
---

Party with Gree at E3!
Believe it or not, parties have a purpose…in many cases, it's self-promotion. They don't get much bigger than Gree over in Japan, but the social and mobile gaming giant isn't so well known here in the States. Hey, its U.S. branch isn't even two years old yet. But it approached its visibility problem by throwing truckloads of money at it. For E3, that meant a colossal booth on the show floor and a raucous dance party at Club Nokia, a venue I despise for its no-salt-margarita policy.
Let's not pretend this one featured anything even remotely gaming-related. Even the night's DJ entertainment, Girl Talk, paused to ask the crowd what a "gree" was before admitting he didn't actually give a shit. Consider that check cashed.
Weirdly, security told me to hand my voice recorder over at the coat-check desk — weird, because Girl Talk basically ran an iTunes playlist of other peoples' songs (using a Macbook and a rudimentary cross-fader) and called them mash-ups…which they generally weren't. So it's not like copyright infringement was a factor. Seriously, I detected nary a mash-up in the entire 60-minute set. Naturally, I agreed to security's request, then walked straight in without surrendering anything. That's how real journos roll.
No lie, Girl Talk got the club jumping, with a huge group of people pulled from the party to shake it onstage. GamesBeat photographer Rich Prugh even became the most popular on-stage dancer who was not a slinky Asian girl. Call it fun and clubby overall, but Gree served mainly as a time-killer before our late-night appointment kicked off.
---

Halo 4 E3 Showcase Event
GamesBeat editor-in-chief Dan "Shoe" Hsu and I surprised Rich — a huge Halo fan — with this one: an exclusive behind-the-scenes for the Master Chief's next war. We barely got in the door before some friends waylaid us to show off a pic they'd taken with themselves, Nathan Fillion, and Alan Tudyk (the latter two of of Firefly and Halo: ODST fame). Then we snuck upstairs to say hello to a few of developer 343 Industries' principals — franchise director Frank O'Connor, the amazingly named executive producer, Kiki Wolfkill, and creative director Josh Holmes.
This shindig existed right between the other two: rowdy…with a purpose. Free drinks, loud music, full access, plenty of great people to chat with, and Halo 4 modes not playable on the E3 show floor. It also covered Regicide, a new free-for-all that bares a strong resemblance to my favorite custom Halo match.
We jumped on and played both the 4-player co-op Spartan Ops and versus mode War Games before giving our critique to Holmes in person: "We kinda hate it."
It pained us greatly to say that, so we went back down and spent a few more hours grinding in War Games just to really get a feel. The club setup made us stand to play…fairly mean-spirited after a long day of running around the Convention Center, but we stood. We played. And we slowly fell in love with Halo 4 while the party thumped along behind our backs.
---
That's just a small sample of what goes on after hours. Others hit a Hawken LAN party, or the annual Harmonix party, or Bethesda's "6th Annual/First Ever" E3 party at the Saddle Ranch…which is apparently not a brothel. But that's E3 for you…it doesn't stop when the game machines shut down. Sometimes, that's when the real celebrating begins.