This post has not been edited by the GamesBeat staff. Opinions by GamesBeat community writers do not necessarily reflect those of the staff.
---
I'm a big fan of the indie game scene, and I do my best to support it when possible. It's where you see a lot of the exciting stuff happen. The majors shy away from risk. Indies take as many as possible, because that's the best way to get noticed. But while a lot of indie devs can create something truly special, few can actually explain their games very well.
Enter Steam Greenlight. With so many people trying to get their projects on Steam, the popular PC gaming service decided to crowdsource which indie games actually make it, like Kickstarter without the financial outlay. To get those up-votes, they've got to pitch their games right — idea, hook, assets, awesomeness. Not all of them do. I found 10 that did.
To be clear, I can't say these are great games — I haven't played them — and not every worthy entry made my list. But these 10 sold me on their premise and adhered to my arbitrary ground rules;
1. Have a cool name and/or tile image that gets my attention
2. Have an interesting description that explained the game clearly
3. Include a video showing gameplay that made me want more
4. Never use the words "zombie," "epic," or "still in development"
That's how you pitch a video-game project to the masses. So now, I give you 10 little indies that deserve your support.
Developer: Space Bullet
A kooky Double Fine-ish design aesthetic? Six character classes on stealthy, squad-based espionage missions? Flip between characters at will? One agent dies, you can field any of your remaining assets sans weapons? 3-player co-op? Open levels? And hey, what's this…low system requirements? Sold, baby! Signal Ops doesn't just look like one sweet ride; it could just be the smart, tactical adventure that offers something few indie games can: a whole lot of replayability.
---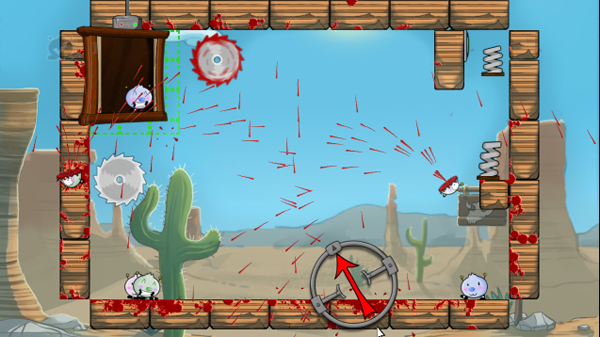 Developer: ApathyWorks
Yep, add a heaping helping of gratuitous cruelty to a cartoon, and I'm in. Since nobody's licensed "Smurf Laser Armageddon," I'll cheerfully make do with Cute Things Dying Violently, a game firmly cut in the Lemmings mold but singing its own twisted tune. It's already available on the Xbox 360, and now developer ApathyWorks wants to bring it to the platform where it truly belongs. But c'mon, really now…if the name alone doesn't sell you, I can only say buzz saws, fire pits, electrical arcs, hate robots. There, that should do it.
---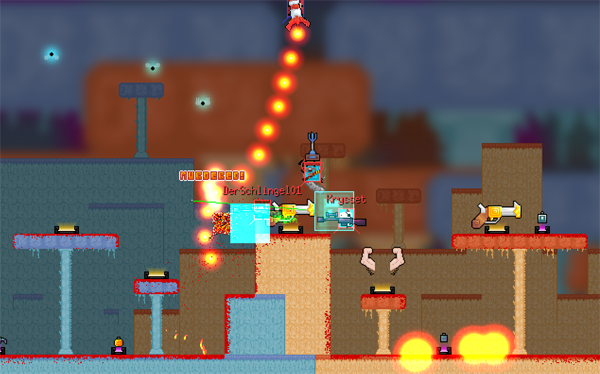 Developer: Arctic Anteater
Everyone deserves at least one totally chaotic 2D multiplayer shooter with crazy super-missile guns and Kill-O-Zap rays and crazier powers that turns enemy fire back on your enemies when you're not stomping them into a red smear on the ground. Kill Fun Yeah might just do that for you. With characters that look silly no matter how you customize them. That's fine, because they'll be atomized within seconds anyway….
---
Developer: HHH Labs
Finally, something to fill the Time Pilot-shaped hole in my life. Gimbal lets you customize your own space gunship — because everything does, of course — while the game itself just looks flat-out gorgeous. And dangerous. Multiplayer battles turn into a beautiful cascade of crossing high-energy bolts, afterburner contrails, and fiery explosions as those customized ships are blown to mesons.
---
Developer: Lunar Software
As the name plainly indicates, Routine is a first-person survival-horror game set on a mysteriously empty moonbase, and your job couldn't be simpler: survive long enough to find out what happened to the base personnel…and what did it. Easily one of the more technically sophisticated games on this list, developer Lunar Software squeezes a lot of atmosphere out of the Unreal Engine 3, promising an open-world environment, multiple endings, and Ocular Rift support. A side of perma-death suggests that Routine will be anything but.
---
Developer: Bootdisk Revolution

Wryn didn't get chosen to join the pantheon of ultimate video-game heroes, so she's going to kick the crap outta alla them fools. That charming premise drew me in. The promise of time-slowing powers that turn Bleed into a bullet-hell shooter where you create the hell intrigued me. But its aggressively retro vibe wins, pure and simple. Hell, I recognize half of those explosion and gunshot sound effects from my Atari 2600 days.
---
Developer: Aduge
Different gets my attention, and sorry, but Prince of Persia games mainly pay lip service to Persian design. Qasier al-Wasat, on the other hand, creates a rich top-down environment and marries it to a dreamlike fantasy that could almost be genuine Arabian mythology. You play as an invisible creature — you have to look hard to see it on-screen — stealthing around an ancient castle to eliminate three targets and unlock their secrets. Watching its intro video made me want to unlock Qasier's secrets, too.
---
Developer: 9 Heads Game Studios
You can count the number of indie games that want to be the next Portal on all the fingers in Canada. Vitrum is one of them. That said, it adds a fun little central mechanic to its test-chamber puzzles. Your robot character converts color-coded crystals into special powers — reverse gravity, dashes, create platforms, etc. Mr. Robot can store two abilities at a time, which could lead to some wild combos. Maybe not enough to make up for GLaDOS' absence, but riffing on those possibilities might just keep me amused.
---
Developer: Bitphase Entertainment.
I love a good space/aerial-combat game. My hunt for one on Steam Greenlight ended at Windhaven, and here's why: You play as a bird. A goose. A blackbird. An eagle. Y'know…birds. Who shoot photon torpedoes at invading airships! Each species comes with a specific attack, and it looks like you're winging it as part of your kick-ass flock, giving the battles major scope. An unusual control scheme — one control stick for each wing — also holds some promise, though possibly less so for the keyboard/mouse crowd. But do I want to shoot down evil blimps with an electrified seagull? Why, yes. Yes, I do.
---
Developer: HyperSloth

Of all the pure, traditional, 3D puzzle games on Greenlight, Dream stuck with me. I get a serious Myst vibe off it, but less point-and-click than move-and-explore. Taking place in one troubled man's dreams (developer HyperSloth promises nightmare sequences as well), the imagery stays just inside surreal without ever going the full Salvador Dali. It's unclear yet what kind of puzzles this weirdly sane fantasy might offer, but I'm hoping for a lot of fluid dream logic to go with the beautifully fluid environments.
---
Of course, only a few hundred more candidates have appeared on Steam Greenlight since I went through. Have you up-voted something? Let us know what it was and why it grabbed you in the comments below!