This post has not been edited by the GamesBeat staff. Opinions by GamesBeat community writers do not necessarily reflect those of the staff.
---
Oh, Sony. Must you?
Here we all are, excitement building around the incoming 8th generation video-game consoles — the PlayStation 4, the Xbox 720 (and that will never be its official name) — possibly unveiling as soon as next summer. So you introduce a new version of the PlayStation 3 right at the eleventh hour. Why, Sony?
It already took three years and six different SKUs to nail a commercially competitive PS3. I'd written it off as the distant third, the "me-too" console, but you did it, Sony, you really did. The PS3 "Slim" dropped with the right form factor at the right price, and it took a while, but that Hail Mary pass narrowed a huge gap to come within a few million units of the Xbox 360's sales numbers. That's astounding…and now you're messing with success. You're throwing down an all-new SKU that's half the size and $20 more expensive. Why, Sony? Why?
Well, I have a theory about the why. Several, in fact. And they're all really bad news for Sony's competition.

Keep in mind that the original PS3 Slim isn't officially called the "Slim" and never was. That's just the tag us journalists hung on it. To Sony, it's always simply been the PlayStation 3 160GB…a revised, smaller SKU that immediately replaced the bigger, bulkier, far more expensive boxes that floundered so badly in the marketplace. This new "Slim," which is miniscule compared to the elder "Slim," follows that same lead. It's the PlayStation 3 250GB, and it's here to phase out the old hardware, not join it on store shelves.
Simple reason for that. It costs less to make.
Sony's first attempt to shave dollars off the PS3's product BOM (the complete cost of manufacturing) cut the chip that allowed backwards compatibility with PlayStation 2 games. By the time the first 160GB "Slim" released, hardware costs nose-dived…same performance, less expensive guts, higher profit margin. The new 250GB "Slim" chops that overhead even further. Hell, they're even saving real money on material costs and shipping freight now.
So you might think it's a little brassy to raise the price. True, the 250GB bumps up the storage capacity and includes two games — Uncharted 3 and Dust 514 — but we're seven years into the PS3's life cycle. Most people might think a price cut would be in order.
I wonder if they'd also think it's a coincidence that Sony announced a 250GB console releasing on September 25 for $270 just one week after Nintendo announced a November 18 release for its 8GB Wii U…priced at $300. Nintendo undercut the competition last time around to great effect. Sony's playing that card back on them with a lower price and a stronger machine..
Of course, the new PS3 bundles don't include Move, its motion controller, but Move isn't really doing PlayStation too many favors, anyway; Like the PS Vita, it's a good device without the software to support it. Sony's gambling that the numbers — 8GB vs. 250GB, $300 vs. $270 — will work in their favor and that motion control won't be the factor it was back in 2006. I wouldn't bet against them on either front.
Sony definitely wants to kick the legs out from under the Wii U with this new, tempting PS3, but that's not the whole picture. The 250GB stands as the mid-level PlayStation. Europe will get a cheapie 12GB flash memory version, but the day before Halloween (three weeks earlier and right at the Wii U's price point), a 500GB PlayStation 3 comes to town.
I find that very interesting. We're at the end of the PS3's life cycle. What are we supposed to fill that gigantic hard drive up with, exactly?
The PlayStation Store's made great strides, but it still hangs well behind Xbox Live and its Summer of Arcade when it comes to exclusive downloadable games. They're absolutely reaching for greatness, even if they arguably haven't hit the bullseye quite yet (see Papo & Yo). On the other hand, you can also download the complete Infamous, Little Big Planet, and other top-tier retail releases of years past. Not enough to take up 500GB, maybe that's about to change. Maybe recycling PlayStation hits of yesteryear is just the begining.
Here's where I bring Dust 514 back into the conversation.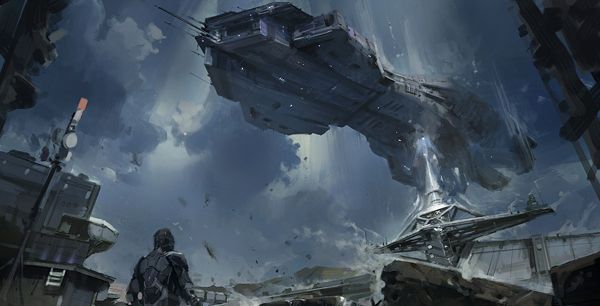 I've had my eye on Dust 514 for a while now. It's the first-person-shooter component to developer CCP Games' Eve Online, a ship-bound, PC-based massively-multiplayer-online game, but both games operate concurrently across platforms. Bombard a planet from orbit in Eve, see the bombs falling on your position in Dust. And the Dust 514 bundled with the 250GB SKU falls right in line with that plan. The PS3 is a cross-platform console right out of the box.
This isn't the first time PlayStation's stepped over that divide, either. They did it with Portal 2, Valve's popular sequel, on Steam, Valve's popular download service. You could sync the two games on those two platforms and jump between them without losing progress…just pick up right where you left off. Nothing's really come of that functionality since, possibly because Valve's rumored to be working on their own proprietary game console.
But wouldn't it be interesting if that alleged Valve console was, in fact, a collaboration with Sony on the PlayStation 4? Valve's hiring notices suggest otherwise, but I do have to note that they're also one of Eve's publishers.
Synching up to Steam and it's huge catalog of games — not to mention a wealth of indies coming up through Steam Greenlight — can put that 500GB hard drive right to work in ways the PlayStation Store alone never could. Release every game simultaneously as discs and as downloads, maybe with a slight discount for those who get their games digitally. That puts every other game console on the defensive. To say nothing if Sony releases a 1TB PlayStation 4 in 2013.
Even if Steam isn't involved, Sony still has several thousand PlayStation 2 games they can likely tap into. That'll keep a 500GB hard drive busy for a while.
Either way, I doubt Sony would've taken this bold a step at this point if Nintendo hadn't tipped its hand by showing the Wii U more than a year before its release; hardware developers usually keep a tighter lid on these things for good reason. As-is, the new "Slims" constitute a serious shot across Nintendo and Microsoft's bow. Expect Sony to start aiming full salvos dead-center by summer.