This post has not been edited by the GamesBeat staff. Opinions by GamesBeat community writers do not necessarily reflect those of the staff.
---
I never quite understood the grand strategy genre of entertainment provided by Paradox Interactive. The games were vast in their scope, spanning years of history and large amounts of land all broken down into countries, provinces, counties, cities, and towns. Then when the developers throw in a dynasty that you have to lead to glory through wars, rebellious vassals, scheming enemies, and siblings with ulterior motives for succession, you have yourself a very confusing yet appealing prospect.
The many levels of detail had always caught my eye, but I never was ready to take that first step into something new. After watching the trailer for Crusader Kings II and constantly seeing it pop-up on Steam, I finally decided to try my hand as some grand strategy.

Just wow…. Also, the main menu music is amazing.

Upon my first time playing, my mindset was that of any other strategy game: to conquer and destroy my opponents. This led to a befuddling and frustrating experience as my vassals began to rebel due to poor leadership. Lands passed over to rival leaders, and I inevitably lost because I did not have a dynastic heir. I really didn't have a clue as to what I was doing.

I'm looking at you Aife…. You sly devil, you.

Although I did have a taste of what Crusader Kings had to offer, I really wanted to enjoy this game. So begun my scouring of the internet to find any helpful starting tips, guides, and strategies — the most notable being "How the Hell Do We Play Crusader Kings II?" by Kersch — to help me.
What I found wasn't your typical strategy at all. The franchise's primary focus wasn't about having a lot of conquered lands or maintaining a large army. Those were certainly good to have, but the main ideas I feel the developers wanted to convey were all the smaller gameplay elements that were incorporated.
With a new way of looking at the game, I started to pay more attention to the other details, such as the proper attributes (being honest or kind), that a ruler should have so that I could develop my dynasty properly. Or staying in the good graces with the Pope so that I wasn't excommunicated, thus lowering my vassals' opinions of me and causing them to rebel. I constantly found myself being rewarded for paying attention to those little details, such as holding more troop levies because my vassals liked me.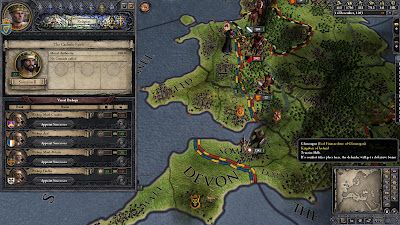 This Pope actually doesn't mind me too much … for now.

Even the game's combat had more subtle tricks that you had to pay attention to or your goals may be a lot harder to pull off. One good example of this was when I had my eyes set on England. Being the King of Ireland, Scotland, and Wales, of course I needed another piece of the pie. Unfortunately, their armies were standing at 45,000 strong while I could only muster a measly 28,000.
I could have spent the funds into mercenary armies, but that would be a strenuous strain on my coffers. Instead, I noted that England's leader was old and decrepit. So I waited. In a few short years he was dead with his son taking the throne and English lords fighting for independence due to their lack of faith in the new crown. A perfect time to strike. In no time at all the battle lines were drawn and I'm walking away with two new English provinces under my belt.

This young English king is doing remarkably well holding his country together.

While the learning curve is a bit steep, the overall experience is fun and rewarding. I'm still figuring out all the nuances to the title to fully take advantage of my realm and usurp my enemies. If you're willing to throw in some extra time outside of Crusader Kings to figure out these other game options, then I can assure it will be a much rewarded experience.