This post has not been edited by the GamesBeat staff. Opinions by GamesBeat community writers do not necessarily reflect those of the staff.
---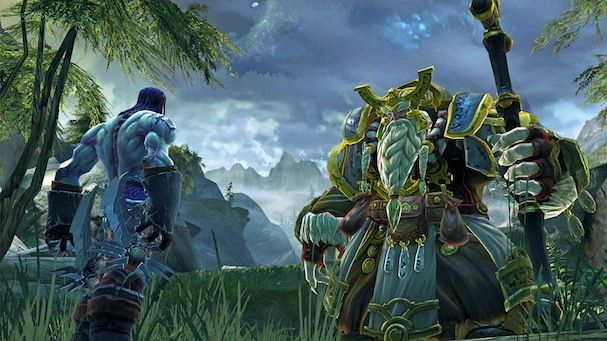 Author's note: I have only played through the first part of Darksiders II so far, so my observations will be limited to the first area of the game.
---
Last week, I wrote an article about the Darksiders series' human-incidental apocalypse. Bitmob community writer Ed Grabowski left a great comment on that post, which read, in part, that "The first had awesome art direction, [and] the second went for the generic fantasy look."
I quote Ed not to pick on him, but because I've had some of the same thoughts about developer Vigil Games' latest title. Darksiders II is, in fact, a huge visual change from the first game, abandoning End-Times-ravaged Earth for a high-fantasy aesthetic.
The difference is that I don't mind.
The first Darksiders has one of my favorite all-time video game settings: a post-apocalyptic Earth that is not at all concerned with the scrabblings and daily trials of the few surviving humans. The few surviving humans are zombies, which I guess is probably pushing any reasonable definition of "surviving," but it is what it is.
It would have been easy for Vigil to go there again in the sequel, and nobody would have complained. But what the developers of Darksiders II did instead is take the new hero, Death, and place him in an environment that is as alien to him as could be. It looks really weird for the Grim Reaper to be walking around a brightly colored fantasy land talking to dwarves (it's Darksiders, so they're giant dwarves, but we know what they really are).
While Ed is correct in saying that Darksiders II's fantasy setting is generic, its juxtaposition with the Pale Rider makes it work for me. Death is on a desperate mission to save his brother, and he's way out of his element. The lush greens and blues of the Forge Lands amplify his other-ness and reinforce just how far he is willing to go to save his fellow Horseman.
In addition to the alienating effect, the Forge Lands broaden the scope of the story to include things that the first game had no time or need to address. By introducing a single additional detail — that everything in the universe had to come from somewhere — Darksiders II's universe becomes more complicated, deep, and, ultimately, complete.