This post has not been edited by the GamesBeat staff. Opinions by GamesBeat community writers do not necessarily reflect those of the staff.
---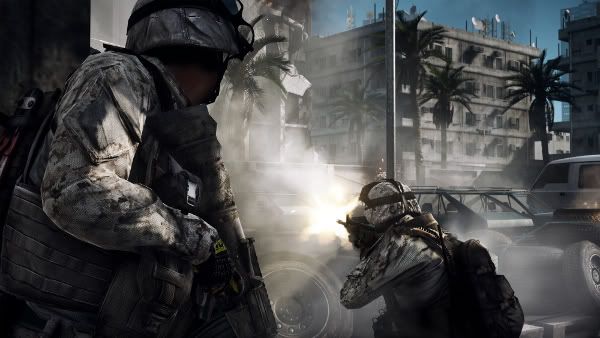 A nagging problem kept bothering me while playing Battlefield 3. It had nothing to do with the server speed or my overheating Xbox 360.
I just couldn't think of a great rock-music playlist to listen to during my sessions.
I really wanted to capture that ruthless environment of Battlefield 3 in a playlist. The game has an edgy visual atmosphere that always crawls under my skin whenever I boot it up. The colors are dark and rusty. Every ricocheted gunshot causes some sort of explosion.
I thought that 2000s post-punk would work pretty well. That decade, however, also coincided with the happy-indie-rock movement. I certainly couldn't play Modest Mouse's "Float On" while mowing down hordes of soldiers.
Then I came up with the sound. I had to add in my favorite Generation X music from my childhood.
I really didn't want to include these bands. Many of the singers ended up becoming rotten corporate jerks who are more interested in hoarding money. The songs fit perfectly, though. The Smashing Pumpkins' music has a nasty, cool attitude that really meshed well with the dirty competition in Battlefield 3.
Although some of the band's music is touching, the loud anthems really bring the game's visceral edginess to life. "The Everlasting Gaze" is an especially fitting song. In the chorus, Pumpkins lead singer Billy Corgan keeps whining, "You know I'm not dead." Corgan's message really pumps me up for battle, probably because I always have to respawn after my soldier dies. In this game, I have no choice but to kill more people.
This wasn't enough for me, though. I wanted another band in my playlist with a heavy electric-guitar sound. 311 also fits the mood. The band's dissonant guitar strums have a rugged growl that fills the entire war zone with noise.
Group member S.A. Martinez's raps especially emphasize the intensity of BF3's wastelands. In the song "Galaxy," his loud rhymes burst out of the speakers with catchy profanity. I'm still not exactly sure what he means when he says, "We've got the m*****f****** kids, now let's freak this s**t." He does talk about taking over the Pentagon, however. That sounds almost as crazy as everything else that happens in Battlefield's campaign mode.
I had quite a lot of great material to play around with, so I decided to split my songs into two playlists. I call them Vicious War Tunes volumes one and two. Each list contains quite a few other musicians like Harvey Danger and Beck. I even had room to squeeze in The Pillows, a garage rock band from Japan.
You could try these playlists during your own Battlefield or Call of Duty sessions. Maybe the music will bring all the pain of your preferred war title to life. At the very least, it will make people want to freak s*** up during a heated battle.
Vicious War Tunes (Volume One)
1. Smashing Pumpkins — Cherub Rock
2. Harvey Danger — Flagpole Sitta
3. Smashing Pumpkins — Bullet with Butterfly WIngs
4. Beastie Boys — So What'cha Want
5. 311 — Galaxy
6. The Cranberries — Zombie
7. Kasabian — Club Foot
8. Kaiser Chiefs — I Predict a Riot
9. Bloc Party — Banquet
10. Beck — Novacane
11. Nirvana — Territorial Pissings
12. Smashing Pumpkins — The Everlasting Gaze
13. The Pillows — Last Dinosaur
14. The Flaming Lips — Do You Realize?
15. Smashing Pumpkins — The End is the Beginning is the End
Vicious War Tunes (Volume Two)
1. 311 — Creatures (for a While)
2. Nirvana — In Bloom
3. Beastie Boys — No Sleep 'Till Brooklyn
4. Smashing Pumpkins — Zero
5. Harvey Danger — Wooly Muffler
6. Smashing Pumpkins — Disarm
7. 311 — The Continuous Life
8. Titus Andronicus — A More Perfect Union
9. Titus Andronicus — Titus Andronicus Forever
10. Radiohead — Climbing Up the Walls
11. Joy Division — Transmission
12. 311 — Borders
13. Oasis — Falling Down
---
Which songs would you add to the playlists? How could other shooters benefit from this type of soundtrack? Write your thoughts in the comments below.