This post has not been edited by the GamesBeat staff. Opinions by GamesBeat community writers do not necessarily reflect those of the staff.
---
We've been fairly in the dark about Irrational Games' newest release since they went underground to finish it up back in March 2012. However, new news (that isn't employee layoffs) is now beginning to trickle out. Later this weekend we'll see the first trailer in many months (countdown here) and just today the Premium and Ultimate Songbird editions of the game were announced.
You can get all the information about the Collector's Editions of the game by visiting Irrational's website. I'm more interested in outing a few interesting details that I noticed while reading the descriptions. Here's four new revelations about Bioshock Infinite:
Bioshock Infinite: The Siege of Columbia (Board Game)
Soon you'll be able to take the fight for Columbia straight to the tabletop. Included in both the Premium and Ultimate Songbird editions is a 25mm resin-cast Handyman board-game piece. The game will be developed and published by Plaid Hat Games. No details about price and release date were given.
---
The Devil's Kiss
Only of few of the powers (Vigors and Tonics) have ever been shown to the public so far, but now we know about a new one. In a lithograph included in both editions, a power labeled "The Devil's Kiss" appears to help light the way for Booker DeWitt. However, when you are shaking hands with the Devil, you never know what it might cost you…
---
Possess your enemies
Purchasing either Collector's Edition nets you three additional new powers, one of which is "Betrayer," in which killing your possessed enemies causes them to explode in a fireball that deals damage. It was the word "possessed" that caught my eye. Apparently, at some point in the game you'll gain the ability to possess your enemies and control them. With this new power, you can off them and take out their friends who happen to be in their immediate vicinity.
One immediately thinks of the similar power found in Dishonored.
---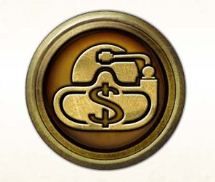 Audio logs are back
Another power you get by purchasing either Collector's Edition is "Extra Extra," in which audio logs also grant a bounty of "Silver Eagles," BioShock Infinite's in-game currency. Not that this is a huge surprise, but at least now it's confirmed that we'll be hearing the story of Columbia from numerous perspectives.
So will you be picking up either of the Collector's Editions?
Originally posted at TheWeeklyBlend