This post has not been edited by the GamesBeat staff. Opinions by GamesBeat community writers do not necessarily reflect those of the staff.
---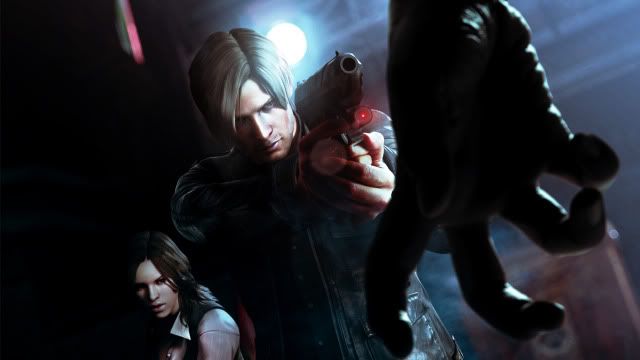 Developer Capcom unleashed Resident Evil 6, the latest installment in its survival-ish horror-y franchise a couple of weeks ago. I'm almost done with series…favorite(?) Leon Kennedy's campaign (one of three in the game), and while I'm not quite as down on this title as Bitmob and GamesBeat writer Jasmine Rea is, I have spent a lot of my time playing it scratching my head. I assume the head-scratching is out of confusion, but I guess I wouldn't rule out Zombie Flu (which is just like the regular flu, but with zombies).
Regardless, here are a few questions I have about Leon's latest adventures in babysitting. Because escort missions, am I right?
---
1.) Do you feel a draft?
OK, here's the situation: A metric fuck-ton of zombies is chasing you down a hallway, and it's so scary, you guys. They're gaining on you. You're low on ammo. You're 10 feet from the door to the next room. A creep you didn't see grabs you and you hit him in the face with the butt of your gun because you don't have time to reload. They're five feet away, and you can feel their rotten breath on the back of your neck. They're about to grab you…and you make it. You throw open the door and escape the hallway.
What is your next step?
I don't even have a cute joke here. Obviously, you close the fucking door to keep the zombies out. But not Leon S. Kennedy, who has had active roles in six games (including this one), three movies, and a few books, comic and otherwise. The man has fought some zombies. He should know better.
But instead, he keeps doing what he was doing — in this case, running from zombies — because unless it happens in a cutscene, that door is staying as open as the wounds the undead horde is about to inflict upon him.
Someone once pointed out to me that the characters in the 2009 film Zombieland were also born in barns, and now that's all I see when I watch it. But they're plucky survivors in an intentionally whimsical story, and Leon is some kind of badass agent with extensive experience fighting corpses. I think that's actually the intro on his LinkedIn profile.
Close the door, Leon. You're just making the game harder and letting the cool air out.

While I'm asking dumb questions, why is his phone made of light?
---
2.) "Get down!" " …Why?"
Resident Evil 6 has a cover system. We can probably just admit that and move on, but the bosses probably expect me to write a little more than that.
I'm not a game designer, so I have no idea how difficult it is to develop customized control schemes for a bunch of different playable characters. I imagine it's pretty hard, although the developers of fighting games have been doing basically that for decades.
Still, maybe it's unreasonable to expect that Capcom would remove the cover system, which makes more sense in Chris Redfield's third-person-shooter-style campaign, from Leon's more survival-horror-inspired section. At the same time, however, it's hilarious that it's still in there.
The point of taking cover is to shield oneself from enemy projectiles, and while some of the reanimated corpses of military personnel have an annoying habit of firing their still-clutched weapons both willy and nilly, ducking behind a wall is not the most sound strategic decision. Why? Because of the 25 other enemies in the area who can kill you just fine without using bullets.
I didn't even realize that covering was a feature until I did it accidentally. And when that happened, I was too busy trying to figure out why it was a thing to even try to fight the zombies that were streaming through the inexplicably still-open door I'd just come through.
When the hell am I supposed to use this? I thought, turning to the Internet for help.
"Later," the Internet replied. "When you're a different guy."
---
I don't hate Resident Evil 6 so far; I'm mostly just confused. What puzzling design decisions await me in the other two campaigns? I'm almost afraid to find out, which is probably the scariest aspect of the game yet.