This post has not been edited by the GamesBeat staff. Opinions by GamesBeat community writers do not necessarily reflect those of the staff.
---
I had some pretty ambitious fantasies growing up. Building a fortress, flying a spaceship, and getting bit by a radioactive spider, to name a few. All the cartoons, video games, and movies I enjoyed probably fueled those thoughts. If my younger self played Halo 4, he'd daydream about becoming a Master Chief-like Spartan.
That kind of thing doesn't happen anymore, naturally. I still prefer unrealistic games, but I, like many other gamers who've grown older, have accepted that I'll never be in a position remotely resembling that of a video game hero, nor do I want to be in one. Nowadays, my dreams are more simple and realistic. I want to travel to a few countries, stay in school as long as I can, and make lots of money writing about games (hah!).
But Forza Horizon makes me conjure up fantasies. It's probably because the title is fairly grounded in reality. No aliens, nukes, or evil villains, just some fast vehicles and gorgeous environments. Unlike other racers, Horizon doesn't demand that you enter a race to cruise around. You don't have to avoid police, crash into other vehicles, or even win head-to-head matchups. You don't play as some badass street racer either. He's just some quiet guy in jeans and a t-shirt. I pretty much cosplay him every day.
Who would've thought the game that captures my imagination would revolve around something as mundane as cars?
Perhaps part of my reaction to Horizon has to do with what's going on in my life. Last year, I moved back to New York. And that meant selling my car, which just so happens to be the one I drive in the game: the 2002 Honda Integra Type-R, released in the U.S. as the Acura RSX.
I can take it through a conveniently unpopulated city and push all its aftermarket enhancements to their limit. If that gets boring, I can spend time making custom decals or taking pictures of it in the game's photo mode. Forza Horizon lets me relive memories with my old ride.
Except the one I owned didn't have a single aftermarket part installed. The check-engine light was always on. The paint wasn't shiny anymore. The front bumper had an unsightly dent. The RSX wasn't even a Type-S, the American premium model. It didn't look like the one in the image above. Instead, it looked like this: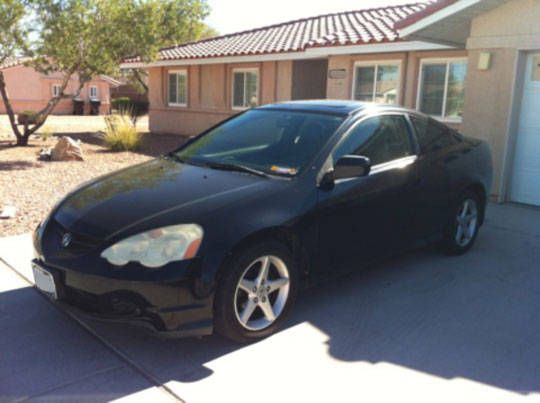 Games with realistic settings and goals can enable older players to dream because their worlds aren't too much different from ours. I don't have a nice car, but it's not too difficult for me to get one. I can buy another RSX in my area for about $10,000. I know this because after playing Forza Horizon for a week, I went ahead and searched several classifieds listings to see if any were available.
Horizon captures a different kind of dream, the attainable one we always bounce around in our minds but for any number of reasons we can't or won't pursue. Whether it's a creative endeavor, a career move, or just a car purchase, we all have dreams that are just a few steps away from fruition. Games that share our world can reignite those fantasies, maybe to the point that we dare chase after them.
And Forza Horizon has me thinking that it might be time to start realizing some of mine.