This post has not been edited by the GamesBeat staff. Opinions by GamesBeat community writers do not necessarily reflect those of the staff.
---
Over the past few months, illustrator Laura Bifano has been running a side project through Tumblr in which Pokéfans describe their favorite pocket monster, and the artist will draw it based on what she may or may not remember. She claims not to have seen a Pokémon since she was 12, so the accuracy of the final piece depends entirely on her own recollection and the strength of the original description.
For example, you can see her take on Lickitung above, along with the official art by original artist Ken Sugimori. The fan request read:
Would you mind illustrating the Pokemon, Lickitung for me, please? Lickitungs are chubby with a round shaped head w/ small black beady eyes and rounded shaped belly w/ yellow semicircular markings and has stubby arms. It has a thick, tail – that's about the same size of it's body mass. But the most important feature of the Lickitung, is it's long, large, tongue that's always hanging out of it's mouth and almost over it's belly. It's also bipedal. Thank you!
You can check out a couple more examples after the break, or you can head over to the Tumblr page to see the lot of them.
---
Fan request:
Could you do a Ninetails? That is a beautiful and majestic dog/fox Pokemon. It's white and stands tall and poised. It has nine full tails. Almost like a wolves. It's completely white. Very regal.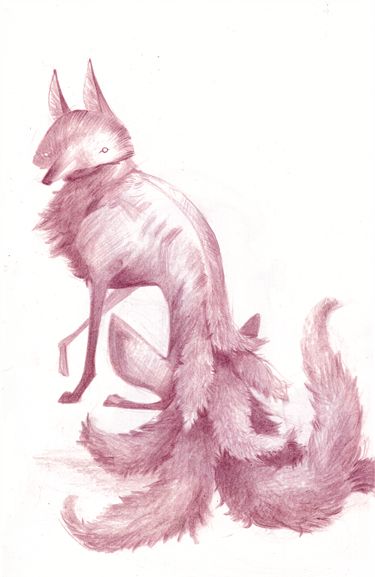 ---
Fan request:
A Poliwag is a small, round tadpole Pokemon. Its enormous eyes are unfocused and it has an insecure, pursed little mouth which partially overlaps with the big white spot on its belly. On the white spot is a black spiral. Apparently this spiral is its internal organs showing through its translucent skin (whaaat). It has two little legs and a tail as long as the rest of its body that looks like one feather, but must be a fin of some kind.